Video webinar series in association with Communicate
This 4-part webinar series is a practical guide for B2B marketers on what you can do to keep your video strategy on track - even under current restrictions. Join like-minded marketers in staying up to date with the latest techniques and approaches in B2B video.
The next webinar in the series is on 2nd June at 10.30am, and weekly thereafter (see details below). When you sign up you'll get access to the recording of the first webinar in the series, which has already taken place.
Please note: This event is not for video production agencies.
---
Webinar series details
Each webinar lasts 30 minutes, and starts at 10.30am
26th May: 5 Things you can do NOW to make your B2B video marketing more effective.
2nd June: How to make your UGC video… not terrible!

9th June: How to get the most from your video agency without them sending a film crew.
16th June: Putting it all together - a cohesive approach to video marketing without actually filming.
---
About the speakers
Simon Crofts
Client Services Director, Big Button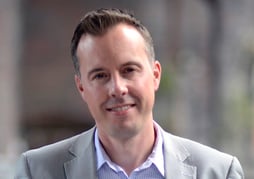 Simon Crofts is Client Services Director at Big Button. He has over 20 years' experience in the video space, and led the video strategy course for Econsultancy for 4 years.
As an award-winning producer, Simon has brought the creative magic to numerous YouTube campaigns with millions of views, and generated measurable increases in marketing performance for well-known brands including PensionBee, Rackspace and ClearScore.
Simon will be supported at the event by:
Sam Lewis
Production Director, Big Button
Sam is the key contact between clients and the technical/creative team at Big Button. With a background in television documentary, he oversees all of the day-to-day running of projects throughout production from timelines and budget management to client reporting and representing client and audience interests.